Are you searching for ways to make your beauty routine more sustainable? If so, you're not alone! Nowadays, many consumers are looking for eco-friendly beauty choices to include in their skincare routine. Here at glowoasis, we firmly believe that taking care of your skin should not come at the expense of the environment. We are committed to leading the way in sustainable beauty by offering products that are effective and great for the planet.
If you're interested in learning more about our sustainable skincare brand, keep reading below.
Vegan, cruelty-free skincare
Our commitment to sustainability starts with our ethically-sourced ingredients. We're proud to be 100% vegan and cruelty-free. All of our formulas are made without animal by-products, and we promise to never test our products, ingredients, or packaging on animals. We're even certified by PETA and registered with The Vegan Society. These recognitions are incredibly important to us, and we've met the highest standards to achieve them. When you use glowoasis vegan probiotic skincare, you can always feel confident about what you're applying to your skin.
Proprietary vegan probiotics
We're dedicated to promoting healthy skin while minimizing our environmental impact with vegan probiotics. Many skin concerns actually stem from an imbalanced skin microbiome, so we believe that addressing the root cause is crucial. That's where our proprietary vegan probiotics come into play.
Our vegan probiotics are derived from napa cabbage and preserved using an innovative fermentation and agro-extraction process. This ensures that all the vital nutrients of the napa cabbage are retained, providing maximum benefits for the skin. We carefully blend our vegan probiotics with other skin-loving ingredients and safe preservatives to create thoughtful skincare solutions that help balance and strengthen the skin barrier.
But why vegan probiotics? For starters, they're gentler on the skin compared to dairy-based alternatives, which often cause skin irritation. Plus, our vegan, dairy-free probiotics don't contain any additives that may come with animal-based ingredients. This helps eliminate the potential for any further skin issues. Vegan probiotics also have a smaller environmental footprint, requiring less land and producing fewer carbon emissions. In fact, a University of Oxford study found that producing a glass of dairy-based milk generates almost three times more greenhouse gas emissions than any plant-based option.
We take pride in our eco-friendly approach to skincare. Our use of vegan probiotics is a key factor in achieving our goals of reducing our carbon footprint while helping consumers attain a healthy glow. We feel that by being mindful of our impact on the environment, we can create positive change in the industry.
Sustainable beauty packaging
It's not just what's inside our products that counts. It's also how they're packaged. That's why all of our glowoasis vegan skincare and packaging are recyclable. We consciously choose sustainable packaging options like recycled glass and post-consumer resin (PCR) caps to decrease our environmental impact. Our paper packaging is also Forest Stewardship Council (FSC) certified, meaning that it's responsibly sourced and produced.
Our products are highly biodegradable, with many being 99%+ biodegradable, so you can be sure they won't harm the planet. And, to prioritize the safety of our consumers and facility workers, we use mineral oil-free ink at our printing facilities. We're thrilled to offer sustainable skincare options that truly align with our values.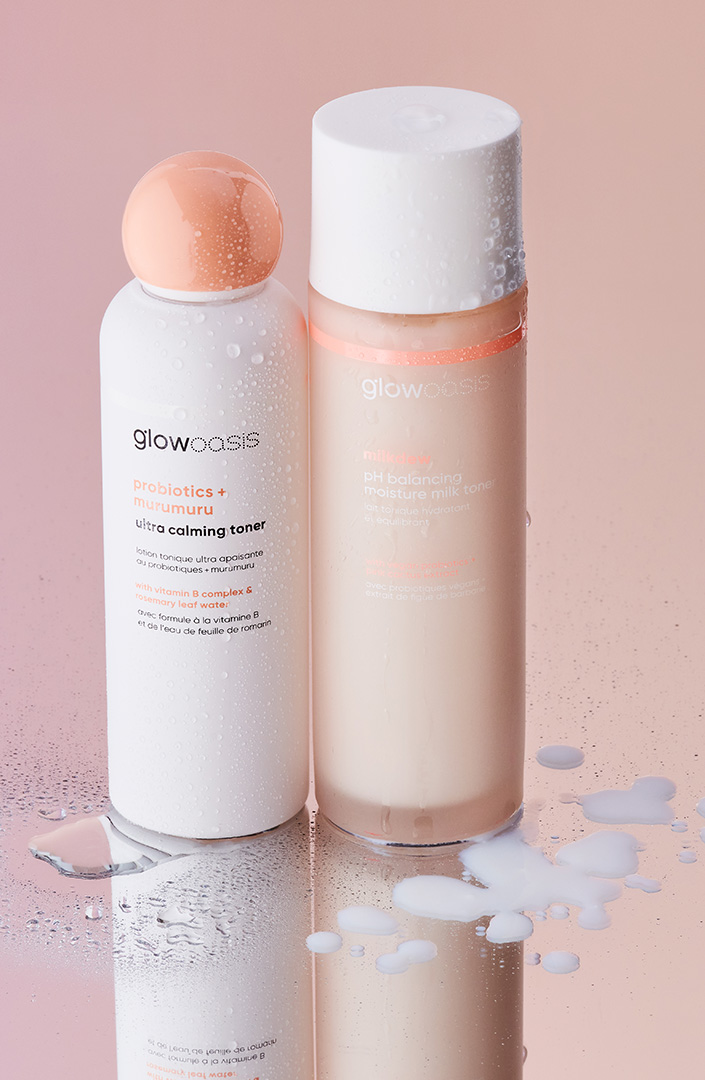 Shop Sustainable Skincare at glowoasis!
We're dedicated to making a positive impact on the world at glowoasis, one skincare product at a time. Here, you can enjoy healthy, glowing skin while also doing your part to protect the planet. Don't settle for anything less than sustainable beauty.
Grab our sustainable skincare products and experience the difference for yourself!