When it comes to your skincare routine, the correct order makes all the difference! It helps you better absorb the nutrient-rich products you're applying, which ultimately leads to maximum efficacy and powerful, visible results. So, if you're ready to take the plunge and start your journey to healthy skin with glowoasis, follow our simple step-by-step guide below:
STEP 1: BEGIN CLEANSING WITH MAKEUPMELT
To kick off your daily skincare regimen, we recommend starting with our makeupmelt cleansing balm for your first cleanse. This product washes away makeup, dirt, surface oils, SPF and any other pollutants that accumulate on your skin throughout the day. With this first cleanse, you're helping to keep your pores clear, which can prevent breakouts and irritation. Our cleansing balm also refreshes and revitalizes your skin, but unlike other facial cleansers this one won't strip away moisture. Instead, your complexion is always left clean, nourished and hydrated.
How-to-Use Instructions:
Scoop a dime-sized amount with the included spatula onto dry skin.
Use your fingertips to gently massage into the skin with circular motions.
Rinse thoroughly with warm water, or wipe off with a damp washcloth.
STEP 2: DOUBLE CLEANSE WITH CLOUDCLEANSE
Next up is your second cleanse with cloudcleanse cloud-whipped foam cleanser. A NewBeauty award winner for best foam cleanser, cloudcleanse is a must-have in your skincare collection. It removes any impurities left behind during your first cleanse, thanks to its dense micro-bubbles that penetrate deep down below the skin's surface. cloudcleanse has been found to unclog pores and balance pH levels, while fully invigorating the skin. The best part, though? Our foam cleanser will NEVER cause your skin to feel tight or dry. To learn more about double cleansing, and why it's so beneficial to your skin, read our blog post here.
How-to-Use Instructions:
Dispense 1-2 pumps of foam into your palm.
Gently massage onto wet skin.
Rinse thoroughly with warm water.
Pat dry.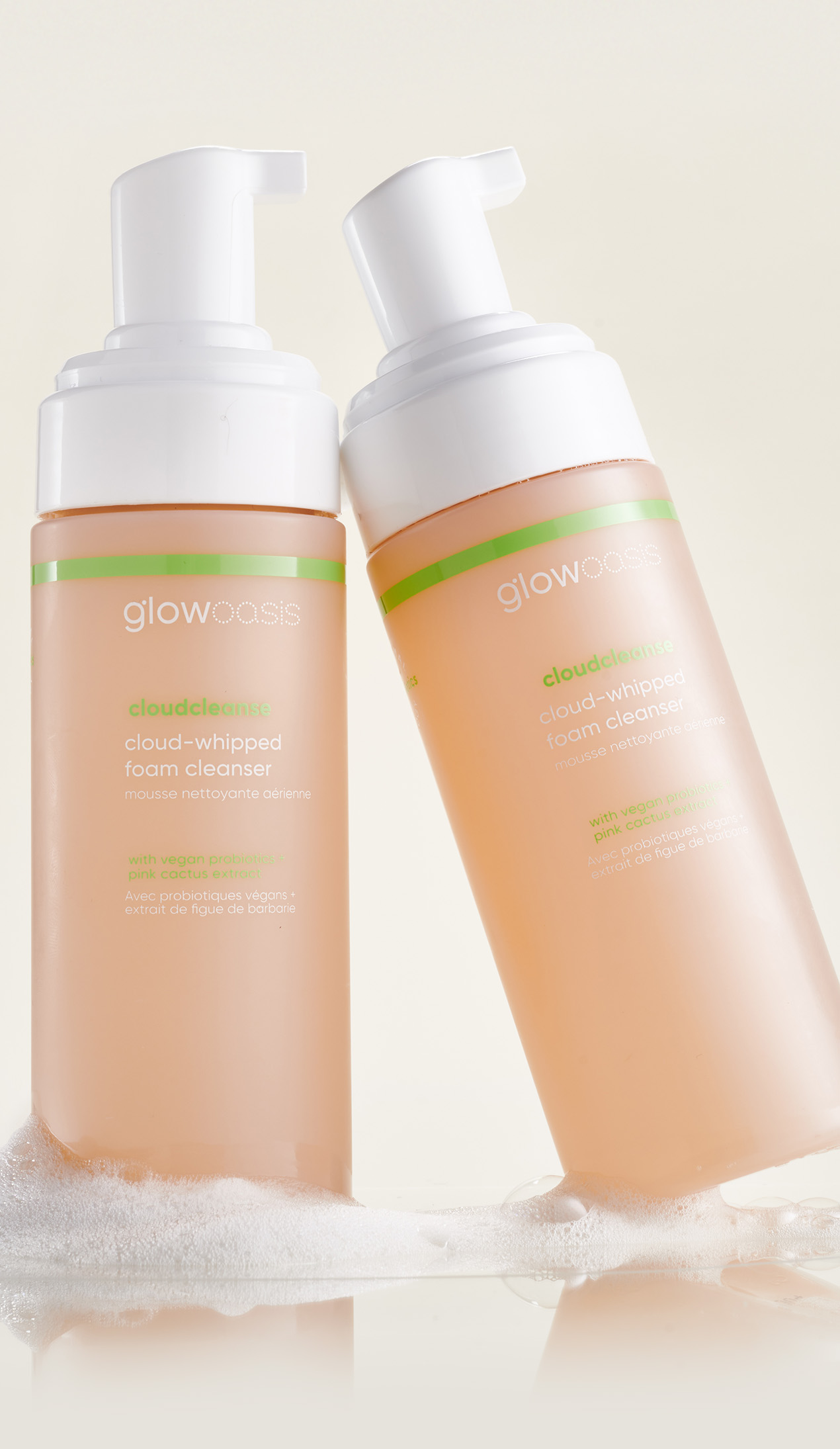 STEP 3: EXFOLIATE WITH POWDERPOREFECT
Our powderporefect powder-to-foam enzyme cleanser is the perfect product to follow up your double cleanse. While face exfoliators often have a reputation as being abrasive and damaging to your skin, that is definitely not the case here. powderporefect is ultra gentle as it buffs away dead skin cells on and below the skin's surface and purifies pores. You won't even have to scrub, it's effective all on its own. Plus, fun fact, your skin actually renews itself overnight, so morning is the best time to exfoliate.
How-to-Use Instructions:
Combine 3-4 gentle shakes of powder and water in one palm.
Rub your hands together until a creamy foam is formed.
Avoiding the eye area, apply onto wet skin.
Let sit for one minute.
Rinse thoroughly with warm water.
Recommended Usage:
Dry skin: 1-2 times/week
Normal skin: 2-3 times/week
Oily skin: 3-4 times/week
Sensitive skin: 1/week
Liquid error (snippets/card-product line 279): product form must be given a product
STEP 4: TONE WITH MILKDEW OR THE ULTRA CALMING TONER
As we shared in our "What is Face Toner & Why You Should Use It" blog post, toning is an essential part of any skincare routine. Facial toners prep your skin, lock in moisture, decrease inflammation and stabilize your skin's pH levels to improve tone and texture. They also tighten your pores to lend an extra layer of protection from environmental stressors. Here at glowoasis, we offer two highly-effective toners that we know your skin will love — milkdew pH balancing moisture milk toner and probiotics + murumuru ultra calming toner. Learn more about them here.
How-to-Use Instructions:
Pour 3-4 drops of pH balancing toner into one palm or onto a cotton pad.
Apply to clean, dry skin.
Gently pat until fully absorbed.
*Please note these instructions are applicable for both toners.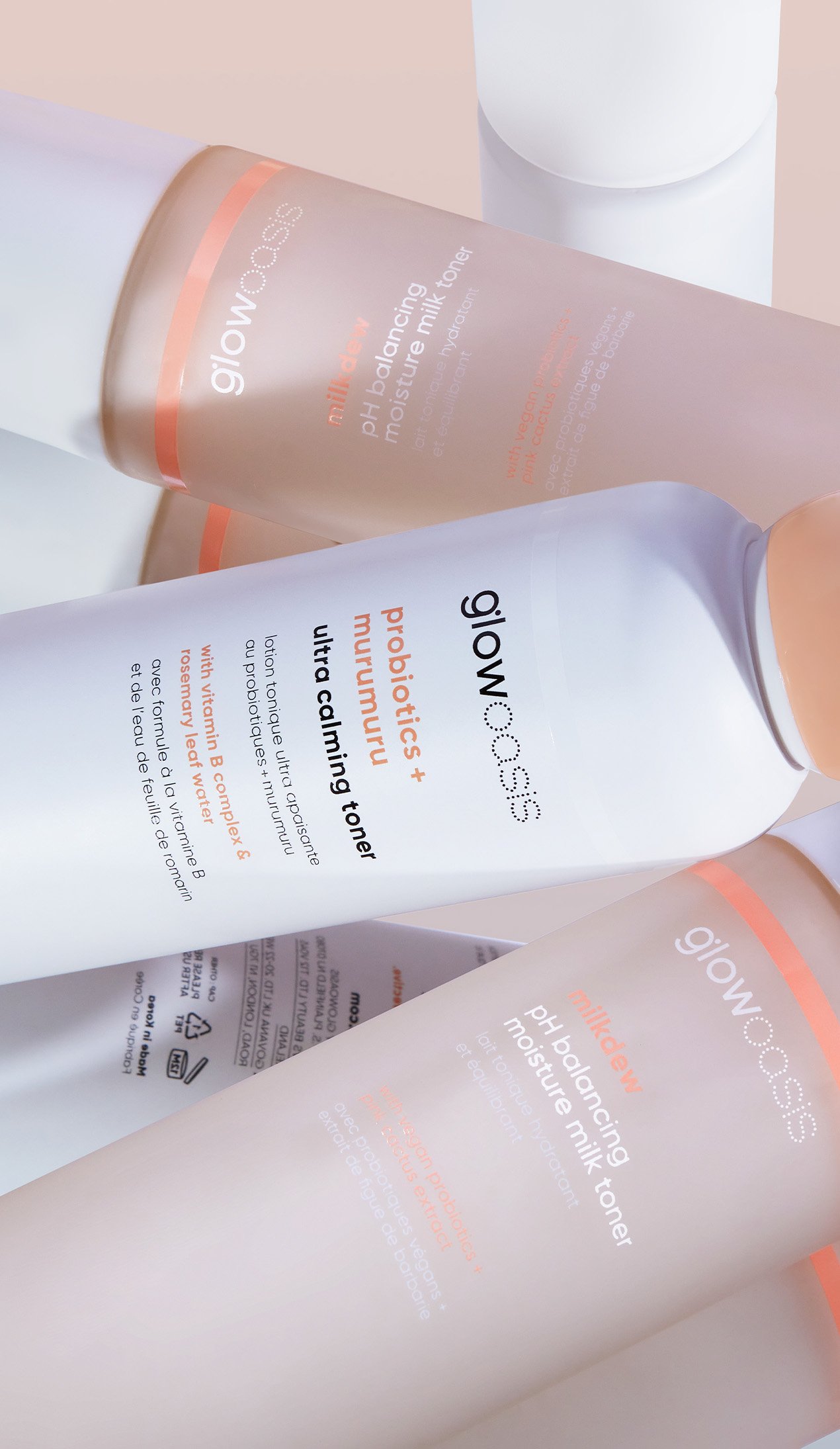 STEP 5: TREAT YOUR SKIN WITH GLOWSHOT
Stress, lack of sleep, diet and even toxins in the environment can wreak serious havoc on your skin every. single. day. But, with a few drops of glowshot supercharged hydrating serum, you can help your skin stay healthy and hydrated no matter what comes its way. glowshot delivers an instant, much-needed dose of moisture to revive and replenish dull, dry skin. With this facial serum included in your regimen, you're sure to achieve that soft, smooth, radiant complexion others can only dream about.
How-to-Use Instructions:
With the bottle closed, squeeze the dropper a few times to fill with product.
Apply 2-3 drops of serum onto clean, dry skin.
Gently pat until fully absorbed.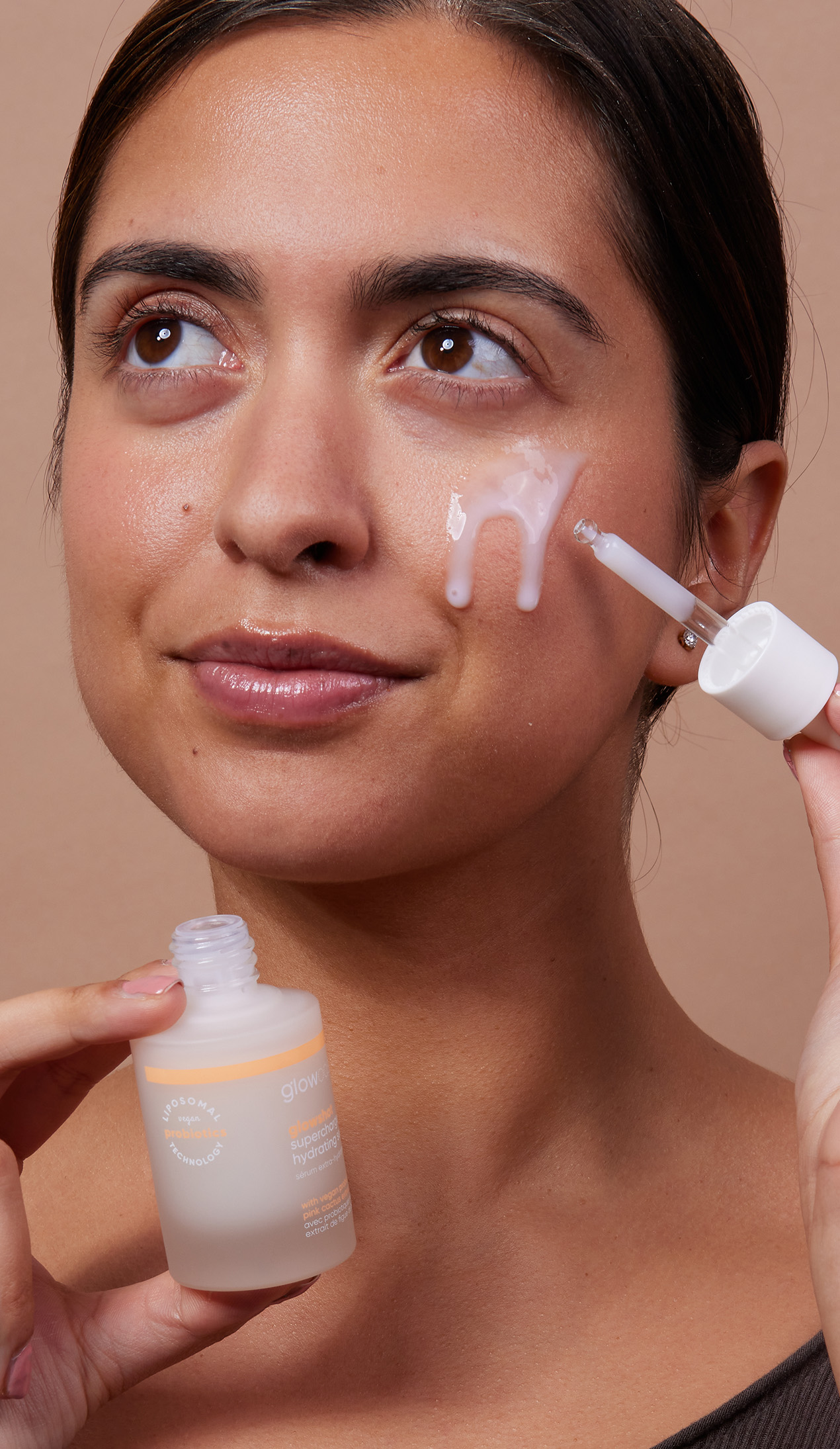 STEP 6: MOISTURIZE WITH GLOWBURST OR THE HYDRA SURGE MOISTURIZER
Last but certainly not least, hydrate your skin with one of our glowoasis face moisturizers. You can choose between either our glowburst intense hydration boosting cream or probiotics + murumuru hydra surge moisturizer. Both work to restore your skin back to its healthiest state, while deeply hydrating to get rid of dryness and flakiness. They're fast-absorbing and lightweight, too, allowing your skin to breathe easily. Find out more about our unique moisturizers here.
How-to-Use Instructions:
Apply 1-2 pea-sized dollops of cream onto clean, dry skin.
Massage gently in upward strokes.
*For the hydra surge moisturizer, we recommend applying only 1 pea-sized dollop of cream as a little goes a long way.
Liquid error (snippets/card-product line 279): product form must be given a product
If you're new to the world of skincare, or even for those pros out there, it can be confusing putting together an everyday routine. Unfortunately, though, applying your products in the wrong order can make them less effective. But, don't worry. We'd never leave you hanging. With this easy-to-follow, twice-daily glowoasis routine, you're well on your way to reaching the healthy skin you've always wanted.